---
---
About
"Yoga is seeing life

the way it is."

– The Yoga Sutras of Patanjali
Thousands of years ago, a process for stress management and mental-emotional health was created to help us face our internal battles and external challenges.
This process (commonly known as "The 8 Limbs of Yoga") guides us to learn how to still the ripples of the mind and quiet the mental noise that prevents us from fully experiencing life as it truly is.
Living and embodying the 8 Limbs wholeheartedly can help us:
Awaken deeper understanding, insight, & intuition.
Cultivate the quality of calm balance regardless of outer circumstances.
Grow inner strength and resolve.
Calmwithyoga.com was born from a desire to make the yogic path accessible to anyone, without having to set foot on a mat or step inside a yoga studio.
Our mission is to help you take your experience of yoga beyond the poses through yogic philosophy, meditation, breathwork, and mindfulness. 
We're here to support the advancement of your yoga practice with effective, simple tools and resources to bring the essence of yoga into everyday moments.
About Our Founder & Managing Editor: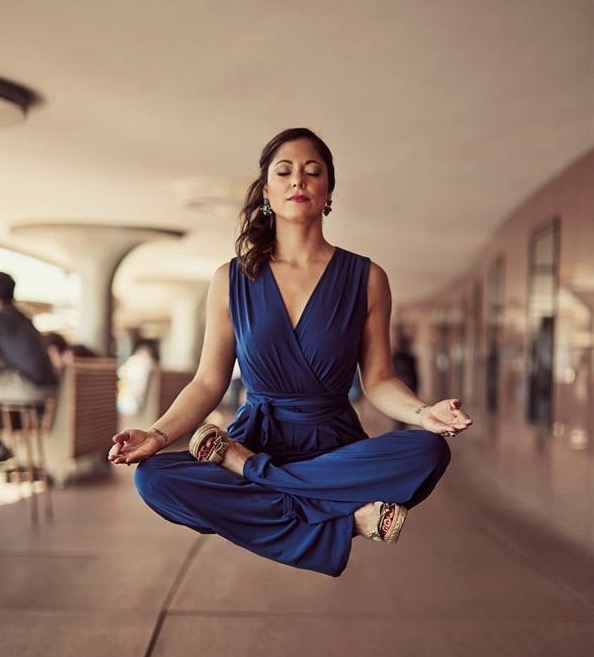 Osmara Aryal, MBA founded CalmWithYoga.com as a result of her own personal journey battling an inflammatory bowel condition and chronic brain fog, fatigue, anxiety, and insomnia.
The idea of the site came about after realizing she had compiled thousands of hours of research and notes unifying effective tools and principles in yogic philosophy, breathwork, mindfulness, and meditation with a focus on increasing inner calm, mental focus, vital energy, and deep rest.
She's a Certified Functional Nutrition Practitioner, and a Certified Yoga & Meditation Teacher specializing in Breathwork (Pranayama), Mantra Meditation, Yoga Nidra, and Yin Yoga.
Her work has been featured multiple times on CNN, the Miami Herald, Tiny Buddha, Elephant Journal, The Mighty, Purpose Fairy, Positively Positive, and Finer Minds.
When she's not exploring corners of the world with her husband Ash, or when her eyes aren't glued to the computer researching and writing, you'll find her on the mat, concocting gut-healing dishes in her kitchen, or cuddling with fur-babies Yodha and Molly.
She lives in Los Angeles, CA.
The Destination Spa Experience
Combine ultimate comfort with professional health and wellness programs
Family-owned since its founding in 1985, Green Valley has become a world-renowned icon of spa luxury and innovation, with the only 4-Diamond accommodations between Las Vegas and Salt Lake City, celebrated spa and wellness programs, and state-of-the art fitness, tennis and golf facilities and instruction – all set in a beautiful, sprawling property, against a backdrop of stunning red rock canyons and pristine nature.
We offer guests a rose garden replete with 10,000 roses, a 20,000 sq/ft. spa center, a 4,000 sq/ft. indoor golf facility, 170 professional, friendly staff members, dozens of spa/wellness options, 20 years of spa leadership, 14 tennis courts, 6 pools, and ingenious chefs.
But numbers can't quantify the most important thing Green Valley helps impart to our guests: a sense of peace, calm and health; a renewed connection with nature the inner self – call it "happiness"…
…and that's "one" thing we could all use a little more of.
Industry Awards
Spa Finder Top Ten
#1 Top Staff Pick
#4Top Hiking Spa
#5 Top Spa Accommodations
Spa Finder Top Ten Awards
-The Top Ten Healthiest Spas in America
Health Magazine
#3 Spa in the World
-Travel & Leisure Readers Poll
Best Rooms and Hiking
-Luxury Spa Finder
Four Diamonds for Excellence in Service and Accommodations
-AAA
"The #3 Spa in the world"
Travel & Leisure World's Best Readers Survey
"The best mid-sized Spa in America"
Spa Finder Magazine Readers' Choice Awards
"Best Spa in Utah"
Zagats Readers Survey
"Top Choice in Southern Utah"
Fodors Guide
"Best Adventure Spa among the Super Spas"
MSNBC/Forbes
"One of the top 15 spas in North America and the Caribbean"
Conde Nast
Guest Comments
"What a fantastic experience…My friend and I loved the rooms including the sky windows where at night you can lay in your super comfortable bed and see the desert stars. My spa treatments were exceptional and friendly and the food was wonderful. I highly recommend and can't wait to return to the Green Valley Spa. Go you will love it!!"
–Chris
"I loved this weekend get away with old friends. It was a perfect atmosphere to relax in an amazingly beautiful setting. The treatments at the treatment center were pure magic and exactly what the Dr. ordered. The dinning room was exceptional and the grilled salmon was cooked to perfection. The pools outside the room were a wonderful place to relax and chat with old friends.The marble bathrooms made us feel special. And as we lay deep in the feather beds you could see the desert night sky and beautiful stars directly above…………it doesn't get better than this ! Thanks Green Valley ! We'll be back!
–RR
We love staying at the Green Valley Spa – the rooms, setting, and incredible ammenities that accompany our stay each time we have been there! It's our perfect "oasis" for rest and relaxation when we travel to Southern Utah. It is such a peaceful setting and we have been treated so well each time. We'll continue to go back again, and again!
–JTS
—-
About
The Mission Pool
Green Valley has been described as the "best mid-sized spa in America" (by Spa Finder Magazine), "among the best spas in North America" (by Conde Nast Traveler), and one of the Top-3 spas in the world (by Travel & Leisure). But the endorsements we cherish most come from the countless guests who've told us that Green Valley is simply the most remarkable place they've ever stayed.
Maybe it's our breathtaking hikes and adventures through the surrounding Red Rock Canyon country. Maybe it's our world-famous spa, or our award-winning sports programs – or the fact that we have the only 4-diamond accommodations in southern Utah. Or maybe it's simply because we foster a warm, casual, friendly atmosphere.
We invite you to come and experience for yourself what makes Green Valley one of the world's elite spa resorts. Whether you want to get away from it all, change your life, lose weight with our Fast Track hCG Weight Loss Program, recover from stress with our Stress Recovery Program, or just enjoy a rejuvenating overnight stay, we have the perfect Green Valley experience – just for you. We also have a new Discover Your Senses Program, that will vitalize your senses and get you back on track.
—-
Green Valley Spa & Resort: The Choice is Clear
Green Valley has been described as the "best mid-sized spa in America" (by Spa Finder Magazine), "among the best spas in North America" (by Conde Nast Traveler), and one of the Top-3 spas in the world (by Travel & Leisure). But the endorsements we cherish most come from the countless guests who've told us that Green Valley is simply the most remarkable place they've ever stayed.
We invite you to come and experience for yourself what makes Green Valley one of the world's elite spa resorts. Whether you want to stay for a night, or a week – to pamper yourself with stress-melting spa treatments, or re-spark your spirit with a Red Rock adventure – you'll find it here.
And you just might find yourself again … at Green Valley Spa and Resort.
World's Best Spas
"…it takes a lot for a spa to be named one of the best in the world. Here are, the destination spas that earned your votes in Travel + Leisure's 12th annual reader's survey."
Whether you dream about an adventure vacation getaway, spiritual rejuvenation, healthy weight loss, or total tune-up for mind and body, there's a destination spa vacation® where it can all come together for you. Please visit our friends at the Destination Spa Group.
—-
Golf Staff Bios     
ROB KRIEGER – PGA Director of Instruction
Rob is a native of Cleveland, OH and has 29 years of golf instruction experience and is a Class "A" Member of the PGA of America. He started playing golf at the age of 6 and began assisting with instruction when he was just 16 years old.
He has played competitively in high school, on the Florida mini tours in Orlando and in local PGA Section events.
He is a very accomplished teacher and has taught the game of golf to thousands of students over the years. He has trained the spectrum from beginners to professionals and from juniors to seniors. There has not been anybody he has not been able to teach. He has taught community recreation golf classes and has worked with local community colleges and a variety of municipalities since 1985. He was also the golf coach for Lake Erie College in Ohio and worked under Gregor Jamieson – "Top 100 Teacher" at Lake Nona in Orlando, FL, for 3 winters which was also the headquarters for the David Leadbetter Golf Academy.
In December 2012, he will become Titleist Performance Institute (TPI) Certified for fitness and nutrition.
He has been very fortunate to work at some of best facilities in country and they include: Kirtland CC – Top 20 Courses in Ohio – Kirtland, OH, Sand Ridge GC – #55 Best Courses in America – Cleveland, OH, Lake Nona GC – #30 Best in Florida – Orlando, FL, Forest Oaks CC – Hosted PGA Tour for 30 years – Greensboro, NC, Conestoga GC – #5 Best in Nevada – Mesquite, NV. Rob also worked for the largest golf management company in the world, Troon Golf as the Director of Golf at two of their facilities after receiving his MBA degree.
JOHN LAGANT – PGA Teaching Professional
John is a native of Murray, UT and spent a great deal of time in Utah growing up in Salt Lake. He has 37 years of golf instruction experience and is a Class "A" Member of the PGA of America. He started playing golf at the age of 12 and began his PGA career at the age of 22.
He is a very accomplished teacher and has experience in all facet of the golf business. In 1968, John was hired in St. George as the Head Professional of Dixie Red Hills Golf Course. In 1971, he designed and built here in town the Lava Hills Golf Course now known as the Southgate Golf Course. In 1987, John left the area to be the Head Professional at Kendrick Municipal Golf Course in Sheridan, WY. But missing the great climate and people of St. George he returned in 1997, to focus solely on being a full time teaching professional. In 1998, he was asked by Allen Coombs, owner of Green Valley Spa to help in the development of the Green Valley Golf Learning Center and be his Director of Instruction. He has graciously agreed to stay on as we revamp the GVGLC to the new Golf Performance Studio as we add the latest in teaching technology to better assist in a player's development and performance.
John's knowledge and expertise in the game of golf, Utah and St. George is invaluable. He not only has shared his successful teaching methods with many students over the years but has trained other professionals in the golf business including PGA Champions Tour Player Jay Don Blake.
—-
The Bridge Health Recovery Center
Our Story
We recognized that changes were needed in many people's lives who were caught in a cycle of chronic pain or unresolved suffering. We understood that these various conditions could make getting through a simple day seem like a struggle. We wanted to help. We proudly offer The Bridge as the distinctive alternative for health recovery. For those who have been on the edge of losing hope, The Bridge Health Recovery Center has literally restored life. Our insightful, caring staff and highly integrated, personalized and comprehensive approach is here for your new beginning.
Like any great story, ours continues to unfold with each guest adding an element and new chapter to The Bridge. Our program is much more than a facility, it is made up of respected professionals using both traditional medicine and alternative methods, with the core focus being you. We know how to help your body heal itself, and we've designed the best program in the country to restore health back in your life.
Our Mission
Clear and simple, our mission is to meet the needs of individuals with unresolved medical conditions. We believe that health awaits you. We believe hope is alive.
The Bridge is the future of health care available now. You will feel renewed in our focused, three week therapeutic environment. The Bridge offers a journey specializing in an integrated approach to health and healing. Unparalleled results continue to be demonstrated individual after individual. Imagine having alternatives to the way you feel now. We hope you are the next person to embrace a new future with healthier possibilties.
Together, we will bridge from where you are to where you want to be.
What to Expect
From this moment on, there are great opportunities for change and new beginnings in your life. With three weeks of focusing on nothing else but you and your health, expect changes in many aspects of your life. We know healing will occur. As you read on, you will know that we stand behind The Bridge's program. We believe in our program and we believe in you.
The cornerstone of The Bridge is based on the structured, comprehensive approach of treating each individual as a whole, rather than a list of isolated conditions. Our process is designed to work in tandem with the mind and the body. We created a three week timeline for our program purposefully. This is the minimum amount of time we need to create lasting results.
We appreciate and utilize traditional medicine and the many medical advancements available today. With that said, we are always inspired by the body's innate ability to heal itself. Healing therefore requires that each guest participate and be dedicated to their own recovery. The program begins slowly and continues to build each day. The limitations of each guest are always considered and the program is adjusted accordingly.
Meeting the needs of individuals with unresolved medical conditions is the mission of The Bridge. Since 2001, The Bridge Health Recovery Center's program has been helping people restore their life back to living.
While The Bridge is a beautiful retreat, it is not a vacation. This can be a truly life-changing experience. So what to expect? Expect to work on yourself, with yourself and with us as we share in the common goal: you.
—-