---
11 Ways To Save Money With Essential Oils & Maximize Their Shelf-Life
Updated on 27 July 2020 •
4
minute read
11
Views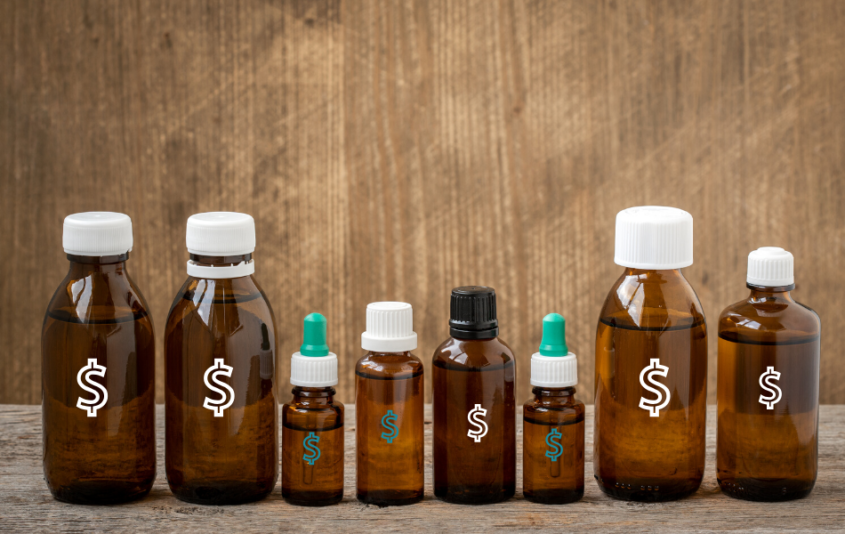 Essential oils (EOs) are the most concentrated form of plant material such as trees, roots, bark, plants, fruit, spices, and nuts.
Recent years have seen a surge in EO use for multiple purposes – from medicinal and therapeutic, stress and anxiety management, sleep support, and beauty and skincare, to household supplies.
But not all essential oils are created equal and even though they can offer more natural, low-risk, and economical alternatives, one must proceed with caution and mindfulness.
Here are 11 specific ways you can get more mileage out of your oils and save some $$ in the process:
1. Don't cheap out on the oils, instead look for cost-effective accessories.
You don't ever want to go cheap when purchasing EOs.
If you do you're likely compromising quality and therapeutic capacity.
Always try to go for certified organic essential oils that are clearly labeled for therapeutic use.
This will minimize your potential exposure to toxins, pesticides, and other harmful chemicals.
You can go the more cost-effective route when it comes to diffusers and other accessories.
2. Purchase a set, kit, or value set.
Sometimes getting oils in a set or bundle form can be more cost-effective than purchasing each oil individually.
You'll have to do proper research, though, and make sure that the company, brands, and oils you're purchasing are high-quality, and come from reputable sources.
3. Don't apply your oils neat, use a carrier oil or other dilution agents instead.
Because essential oils are highly volatile compounds they evaporate quickly off your skin.
If you're using EOs topically you can combine it with a fat-based carrier oil that increases the amount of oil that penetrates your pores.
Cost-effective carrier oils coconut oil and olive oil.
4. Create your own blends.
Pre-blended oils often come with an extra charge.
It can be easy and fun to create your own blends with the proper knowledge and guidance.
You have more control over the process and in the long run it can save you some cash too.
5. Because of their potent medicinal, immune-supporting, anti-inflammatory, antibacterial, and antiviral properties many EOs belong in your medicine cabinet as a first-response course of action.
It's way more economical to buy 1 bottle of Lavender once and use it for multiple uses – medicinally, stress-relief, and beauty.
This also saves you money because you are less prone to buy other medicines, supplements, and other products.
Or at the very least you'll buy them less frequently.
6. Cook (safely) with oils that can replace their whole, more expensive counterparts.
High quality, organic oils can make excellent substitutes for recipes that call for herbs like basil and oregano, or citrus fruit like lemon or orange juice or zest.
Since EOs are potent, you only need 1-2 drops per dish max.
That ends up being more economical than purchase whole organic lemons or oranges.
Since it takes about 35-75 lemons to fill one small bottle, think of how much potency goes into just 1 drop of essential oils as opposed to 1 tablespoon of lemon juice.
Also, keep in mind that EOs have a much longer shelf life which makes them much more cost-effective too.
7. Store your oils in cool, dark places that are away from direct sunlight and heat.
Even though some say that EOs don't have an expiry, they actually lose their freshness and therapeutic properties after about 2-4 years of opening, depending on the oil.
This is thanks to oxidation – the process of gradual oxygen exposure.
Make sure your oils are properly and tightly closed to seal out as much oxygen as possible.
Heat can also accelerate the oxidation process to keep them someplace cool.
8. Store your oils in the fridge to prolong their effectiveness.
Keep your oils in a dark bag in the fridge to make them get more mileage.
You can also try adding fractionated coconut oil, which is stable and doesn't go stale or moldy.
9. Don't store your oils in plastic, stainless steel, or aluminum, always use glass.
EOs can break down chemicals in plastic causing it to bleed into your creations.
This can be very harmful to your health as many chemicals found in plastic are toxic and even carcinogenic.
Storing EOs in metal containers causes a similar problem and can cause heavy metals to contaminate your blends. (No bueno.)
10. Use natural emulsifiers.
If you're ready to have some DIY creativity time and make your own beauty and household products you can use natural ingredients like alcohol, aloe vera oil, lecithin, and water-soluble Vitamin E TPGS to mix oils and water together.
11. Replace your bottle caps with a dropper top.
Sometimes you get more than you need when you using the topper your EO bottle came with.
Maybe you only need 1 drop of Roman Chamomile for your daily face oil but instead, end up getting three because the topper runs.
Getting inexpensive individual droppers for each precious oil bottle will help you use only what you need when you need it.
Green Valley Specials
Stress Free
Spa Vacation For A Day – $200
During the Merry Month of May
Package Includes:
30 minute Water Therapy
50 minute Hawaiian Lomi-Lomi Massage
50 minute Rapunzel's Hair & Scalp Therapy
50 minute group meditation session or fitness class.
pearls
20% Off Summer Sun Essentials
Restore luster to the parts that show – "head, shoulders, knees and toes" – with our Summer Sun Essentials.
Beaches In A Bottle: Lomi Lomi Body Oil with the warm, friendly scent of a tropical island.
Radiance Body Cream: guard against extreme heat.
Bare Foot Balm – for Happy Feet
Rapunzel's Secret Hair Potions –
Moody Hair Be Gone.
Tuacahn Special
Book your stay and purchase Tuacahn tickets with us and receive up to a 15% discount off your tickets.
* Cannot be used with any other specials.
tuacahn_fountain_sign
—-
2002 Rates
Rates
"The Four Diamond Award is one of the lodging industry's most prestigious honors. This distinction symbolizes a commitment to deliver superior personal service, first class facilities and impressive surroundings." –AAA 
Rooms are available in 3 floorplans:
Casita
1 Bedroom Suite
2 Bedroom Suite
Stay 7 nights in 2003 and get the 8th night FREE
-PLUS-
receive up to $300 in airfare credit!
MARCH, APRIL, MAY & OCTOBER
 
CASITAS
SUITES
Single
Double
Single
Double
Triple/Quad
3 Nights
1,860
1,780
2,100
2,025
1,945
4 Nights
2,485
2,375
2,800
2,700
2,590
5 Nights
3,105
2,970
3,500
3,375
3,240
6 Nights
3,725
3,565
4,200
4,050
3,890
7 Nights
4,345
4,160
4,900
4,725
4,535
FEBRUARY, JUNE, SEPTEMBER & NOVEMBER
CASITAS
SUITES
Single
Double
Single
Double
Triple/Quad
3 Nights
1,780
1,700
2,020
1,945
1,860
4 Nights
2,375
2,265
2,700
2,590
2,485
5 Nights
2,970
2,835
3,365
3,240
3,105
6 Nights
3,565
3,400
4,040
3,890
3,725
7 Nights
4,160
3,970
4,710
4,535
4,350
JANUARY, JULY, AUGUST & DECEMBER
CASITAS
SUITES
Single
Double
Single
Double
Triple/Quad
3 Nights
1,700
1,620
1,935
1,860
1.78
4 Nights
2,270
2,160
2,585
2,485
2,375
5 Nights
2,835
2,700
3,230
3,105
2,970
6 Nights
3,400
3,240
3,880
3,730
3,565
7 Nights
3,970
3,780
4,525
4,350
4,160
Applicable tax of 8% are included in above rates.
A 50 min. service or $85.00 in spa credits per paid night is included.
Rates shown are per person , three night minimum, rates expire Dec. 30, 2002.  
Credits can be used to purchase gift shop items or be deducted from the price of the stay. Rates do not include occupancy tax. Gratuities optional.
 DEPOSIT POLICY: A one-night advance deposit per person is required at the time of booking. Balance is due upon arrival. Deposits are refunded in full if you cancel more than thirty days prior to your arrival date. After thirty days, deposits are non refundable, but are applied towards future reservations.  All deposits and cancellation fees are based on a per person basis.
EARLY DEPARTURE POLICY: Your deposit is applied to the last night of your scheduled stay and is nonrefundable in the event of early departure.
ALL ROOMS INCLUDE:
2 line phones with direct dialing and personal voice messaging
Feather beds € 100% finest quality goose down comforters and pillows
Fireplace € Two Televisions, VCR, cable
Microwave
Refrigerator
Freshly ground Starbucks coffee
Personal patio for private massage or sunbathing
CD and Tape player
Bathrobe, slippers and leisure suit
6 foot whirlpool bathtub
In-room fax machines.
 ALL RATES INCLUDE:
Luxury accommodations
Delicious healthy cuisine
Daily maid service and nightly turn down
Body composition testing which includes, blood pressure etc.
Daily guided hikes € Fitness classes, including aerobics, aquacise, cardio boxing, tai chi, yoga, spinning®, cardio ball, etc.
Special events and lectures
Daily lifestyle lectures
Cooking classes
Complimentary laundry service
Full use of resort facilities, including: indoor pools, 19 tennis courts, 2 racquetball courts, tennis facilities, indoor golf learning facilities, 6 outdoor pools, labyrinth, whirlpools, weight training and cardiovascular equipment.
—-
THE SEVEN NIGHT COMPLETE LUXURY PACKAGE
Enjoy the complete luxury of our spa. The 4-diamond rooms, the award winning treatments, the scenic hikes….everything for one price.
Starting at $500 per night, per person, double occupancy. Price includes:
4 Diamond Accommodations (more info)
Welcoming Gifts & Products
Spa Treatment per person, per day
Wellness/Fitness Classes
$100 Medical/Sports Credit (Included with 7 night package)
Daily guided hikes
Junior Suite (750 sq ft)
Grand Suite (1500 sq ft)
Single
Double
Single
Double
7 Day
$4,550
$3,500
$6,615
$4,480
4 Day
$2,700
$2,100
$3,880
$2,700
Daily
$690
$540
$985
$680
all rates are per person
—-
Past Attendee Discounts
P.A. Special #1
It pays to be a Green Valley Alumnus.  All past guests will receive a $100-$400 discount.  Ask your reservationist for the amount you have earned.
 P.A. Special #2
During the past year, 600 of our guests came to Green Valley Spa because of your recommendations.  To reward you for your loyalty we are increasing the referral fee from $50 to $100!  This means that your next visit to the Spa could be free.
Rules:
guests must be coming for the first time.  Stays for less than 7 days will be prorated.
Your name must be given as the referring party when reservation is made.
DURING THESE UNCERTAIN TIMES GREEN VALLEY SPA HAS ADOPTED A POLICY OF NO PENALTIES FOR CANCELLATIONS ONE WEEK PRIOR TO YOUR VISIT.
—-
Rates & Discounts
4 DIAMOND AWARD WINNING DELUXE CASITAS
$400dbl occ. + tax
per night based on 5-7 night stay
One spa service per night per person
Luxury accommodations with king or two queen size beds, private patio, fire place, whirl pool tub, and unlimited Starbucks Coffee
Three gourmet meals daily
Unlimited access to all scheduled hikes and programs
Rates are per person, double occupancy, based on a 5 night stay. 8% tax will be added to the daily rate. 3-6 night packages also available.
—-
as seen on